Date Posted:06/19/2010 01:04:01Copy HTML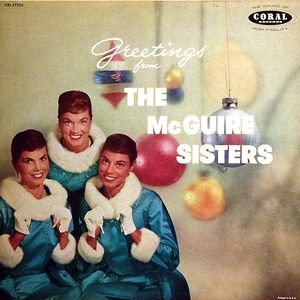 The McGuire Sisters -- Christine, Phyllis and Dottie -- really knew how to belt out a song. The girls are most famous for their great hits from the 1950s like "Sincerely," "Goodnight Sweetheart Goodnight" and, of course, their great signature song and American standard, "Sugartime."
Their one and only Christmas album, Greetings From The McGuire Sisters, was released in 1958 on Coral Records. Posted below is their big hit from that LP, "Christmas Alphabet," which peaked at #25 on the Billboard charts in December of 1954.
And this In The Spotlight tribute just could not be complete without posting this fantastic threesome's great aforementioned American standard signature song, "Sugartime." It peaked at #1 on the Billboard charts in February of 1958 and it held that coveted position for an impressive four consecutive weeks. This song really showcases the girls' great vocal harmony; and so also posted below for your enjoyment is the McGuire Sisters mega-selling classic smash hit "Sugartime." Enjoy!!

Click Here ~ "Christmas Alphabet"

Click Here ~ "Sugartime"

Lawrence F. "Chip" Arcuri Owner/Webmaster | The Yule Log.com