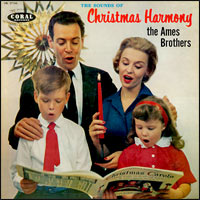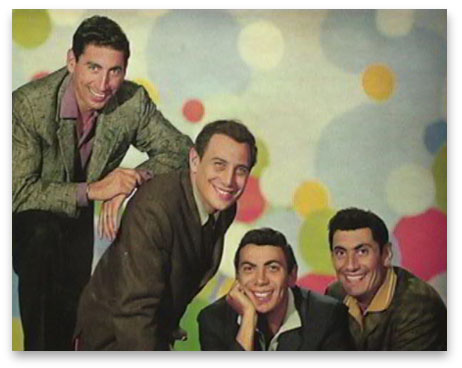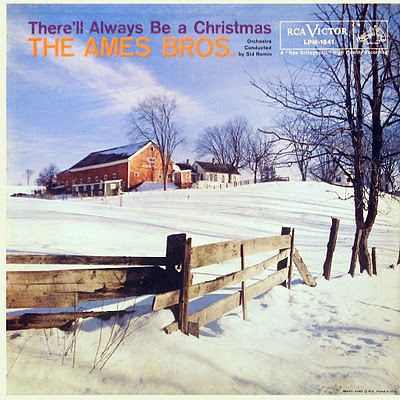 The Ames Brothers have the distinction of being only one of seven recording artists that have multiple albums on two different record labels in the 1st Tier of my Top 500 (albums 1-125). Those two Ames Brothers albums are the 1957 Coral Records LP The Sounds Of Christmas Harmony (#106) and the 1957 RCA Records LP There'll Always Be A Christmas (#107). That Coral Records album, by the way, was a 12" LP compilation of the boys' two prior 10" LP releases: 1950's Sing A Song Of Christmas and 1952's Merry Christmas. This 12" compilation LP was released in 1957 by Coral Records to compete with the Ames' new release that same year of their new Christmas album There'll Always Be A Christmas, which they recorded for their new record label, RCA Victor.
In addition, the Ames Brothers also have the distinction of being one of the many Jewish artists who have recorded fine Christmas albums over the years. Among others in this incredible list are Norman Luboff, Andre Kostelanetz, Mitch Miller, Stanley Black, Arthur Fiedler, David Rose, Lester Lanin, Eugene Ormandy, Harry Simeone, Felix Slatkin, Barbra Streisand, Steve Lawrence & Eydie Gormé, Eddie Fisher and, of course, the greatest of them all: the master and maestro Percy Faith, who was Jewish and yet was solely responsible for the greatest Christmas music ever recorded.
And not to digress, but we can't forget those great Jewish songwriters, including the great Irving Berlin ("White Christmas"), Jay Livingston ("Silver Bells"), Walter Kent ("I'll Be Home For Christmas"), Mel Tormé ("The Christmas Song"), Johnny Marks ("Rudolph The Red-Nosed Reindeer"), David Rose ("The Christmas Tree"), and last but most certainly not least is the great master and maestro himself yet again, Percy Faith ("Christmas Is").
But getting back to the Ames Brothers -- Joe, Gene, Vic and Ed -- and the two splendid Christmas albums they recorded, the Coral LP was released by Jasmine Records on the 2-CD set Together; and the RCA LP was released by Taragon Records as a standalone CD with its original artwork; however, the latter CD is now out-of-print. But not to worry, as the Ames Brothers' entire Christmas output, both Coral and RCA recordings, plus four bonus tracks, is currently available for download online (click here).
One other thing that I'll mention is that after youngest brother Ed left the group in 1961, he went on to have a very successful solo career both as a singer and as an actor. As a solo recording artist, he had two terrific Christmas albums: 1967's Christmas With Ed Ames (#108 in my Top 500) and 1970's Christmas Is The Warmest Time Of The Year (#253 in my Top 500).
As for the Ames Brothers and this In The Spotlight tribute, I have taken one song from each of their two Christmas albums to spotlight, beginning with their Coral Records LP and their fantastic rendition of "Jolly Old St. Nicholas." It's a great upbeat, rollicking rendition of this contemporary Christmas favorite. The second selection is from their RCA Records LP and is yet another outstanding upbeat, rollicking rendition of a contemporary Christmas favorite; this time it's "Jingle Bells." And as the Ames' say in their version of the song, "hitch him to an open sleigh and, man, you'll have jet speed!"
Enjoy!

Click Here ~ "Jolly Old St. Nicholas"


Click Here ~ "Jingle Bells"


Lawrence F. "Chip" Arcuri Owner/Webmaster | The Yule Log.com