Date Posted:11/14/2010 10:08:46Copy HTML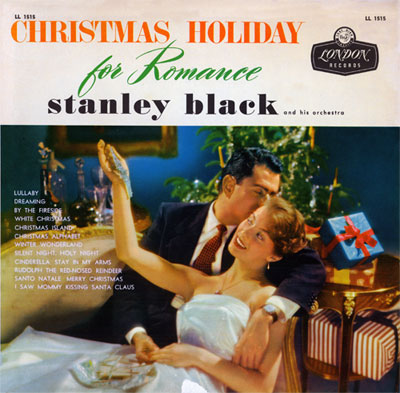 The great conductor Stanley Black's magnificent 1956 LP, Christmas Holiday For Romance, is sadly little remembered today -- which is a pure tragedy as it has an honored place it the history of great classic Christmas music, as it remains one of the greatest instrumental Christmas albums ever recorded.
Besides being a major force in the world of orchestral easy-listening music for many years, Mr. Black in his career also scored numerous themes for films and television. In addition, he hosted his own shows on radio and television in the U.K., where he was a native.
To give you an idea of just how great his 1956 Christmas LP is; it not only resides in the 1st Tier of my Top 500 (albums 1-125), but it cracks my Top 50, coming in at #30.
For this In The Spotlight tribute to this great artist and this great album, I chose to showcase the opening number on the LP: the great contemporary Christmas composition "Santo Natale" (which like this album, is sadly not as well-known today as it should be). Perhaps, if I am successful one day in getting this classic album back in print, both will change. In the meantime, this In The Spotlight tribute will have to suffice to introduce this forgotten treasure of music to a whole new generation of Christmas music lovers.
So here now for your listening enjoyment is the incomparable Stanley Black and his wonderful interpretation of "Santo Natale."

Click Here ~ "Santo Natale"

For my second Stanley Black selection, I chose another contemporary Christmas composition that sadly today is also not near as well-known or performed as it should be; it's the delightful "Christmas Island."

Click Here ~ "Christmas Island"


Lawrence F. "Chip" Arcuri Owner/Webmaster | The Yule Log.com