Date Posted:11/17/2016 07:45:38Copy HTML
Does anyone here have the LP sleeve of the of the RCA Camden mono release of Robert Shaw's "Joy to the World"?
I'm being forced by declining health and the insane rents out here in Seattle to downsize, so I'm going to have to take the better part of my LP collection to the used record store.
The Robert Shaw "Joy to the World" is a sentimental favorite of mine, because it was, if I recall correctly, the first Christmas LP I ever bought. That LP was the mono version. Somewhere along the way I lost it, and replaced it with the "re-processed stereo stereo effect" version, and then, over a decade ago, I stumbled upon a CD version of it, which I still have. But that CD doesn't have the original cover art.
So, now that I'm going to have to let go of my LPs, I'd like to try to track down a photo of the original carved wood nativity scene figurines, so I can insert that photo into the CD jewel case. I found a picture on the the web showing the version of the "reprocesesd stereo" cover: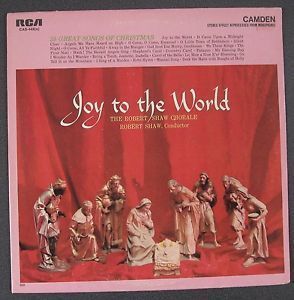 My memory may be playing tricks on me, but I seem to recall that the color image on the mono jacked filled up the entire jacket, edge-to-edge, without the pink borders around the edge. Does anyone of you have a jacket that looks like that?
P.S. When I first tried to post this earlier today, I was unable to get the "Insert image from PhotoBucket" button to work. But now it's working fine! I wonder if I can delete my second message.
Will in Seattle a.k.a. "Clueless"