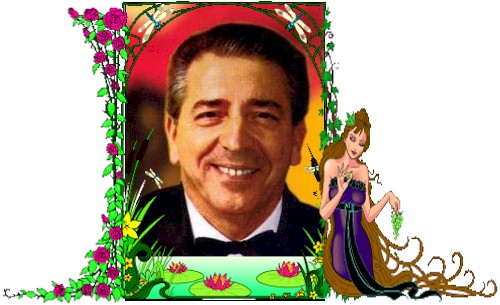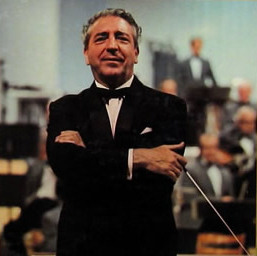 I thought it was only appropriate that after the big announcement last week of the upcoming release on CD of Mantovani's 1958 Christmas Carols LP (click here), that he should be the very next artist that I feature in my In The Spotlight series.
Since I have written so much about the Maestro already, I thought it would also be appropriate (and a grand idea to boot) to post here the original liner notes that were printed on the back of Monty's aforementioned Christmas Carols LP.
The next 512 words perfectly capture the man, who he was, and what he was all about. Some of this I have posted on the message board before, but the vast majority of it is being posted here for the very first time. I think you will find it a fascinating read; and after you're through, you will have a thorough understanding of who this man was and what made him and his music so great.
"Put feeling into your music, my boy," Mantovani's father used to tell him. "Music without feeling is little more than a noise."
Mantovani has followed that sound advice throughout a fabulously successful career. Commanded by his baton, his orchestra moves through beautiful, exciting melodies; violins soar and cascade, creating fountains of thrilling sound; familiar themes become transformed into glittering, jeweled patterns. Yet however rich the setting he devises, however sensuous or colorful the harmonies, Mantovani's music is always filled with warmth and emotion. No wonder millions of people all over the world respond to its artistry and brilliance.

"If there were stars in the eyes of 10,000 persons last night," wrote a Canadian critic, "Blame it on Mantovani, who appears to have a touch of magic at the end of his slender baton." No conductor has become so linked with the music his orchestra creates. The soaring, tumbling violins are the most individual feature of Mantovani's scoring.

Among the many thousands of people in Europe and America who have flocked to hear Mantovani and his orchestra, a few were skeptical, thinking this "new sound" only the result of trick-recording. But Mantovani is proud of the fact that all his effects can be produced in an ordinary concert hall. They only depend upon the scoring and the skillful interpretation of these orchestrations.


It all began in 1951. Mantovani, already popular on both sides of the Atlantic, was asked to record some tunes especially for America. He realized he must do something quite different from the kind of music at which American orchestras excelled, and decided that his best policy was to employ a large number of strings and score for them in a new and exciting manner. His first task was to convince the London Record Company that such a big orchestra would be justified. They agreed, and he made a long-playing record of twelve waltzes. One of these, Charmaine, issued at standard speed, quickly sold over a million copies and won Mantovani a golden disc. It also established him, almost overnight, as one of the most distinctive personalities in the world of light music.

Normally, Mantovani uses twenty-eight strings (six first violins, six second violins, six third violins, four violas, four cellos and two double-basses) balanced against thirteen brass, woodwind and percussion. When he is asked about his method of scoring, he replies very simply: "I hear the music for the full orchestra quite plainly in my head. I simply put it on paper." That sober statement is typical of his musicianly approach. The real answer to the question of how Mantovani creates his sparkling, luminous orchestrations lies within his imagination.

In London, Mantovani uses a regular orchestra for recording, but overseas he has worked with the London Symphony Orchestra as well as musicians drawn from leading American orchestras. "If you've got good musicians," he says, "You can always get it out of them. The only thing is, they must feel the music." In that remark he echoed his father's maxim, and expressed once again the artistic credo that animates his music.
Here now for your listening enjoyment is the Maestro's resplendent interpretation of "Greensleeves" (aka "What Child Is This"); this was the first holiday song that Monty ever recorded employing his inimitable and now world-famous "Cascading Strings" arrangement technique, which became his signature sound:

Click Here ~ "Greensleeves"

And here is Monty's unmistakable lush and sweeping trademark sound as applied to the beautiful ballad "My Cup Runneth Over."


Click Here ~ "My Cup Runneth Over"

Lawrence F. "Chip" Arcuri Owner/Webmaster | The Yule Log.com