Re:Tracklist for Perry Como 'Complete Christmas Collection' on Collectors Choice
Date Posted:09/30/2010 10:02:53Copy HTML
For anyone who never purchased the Australian import CD of Perry's 1968 LP,
The Perry Como Christmas Album
, then this CD compilation serves a valuable purpose. When Gordon Anderson first told me about it back in June, I had asked him to include the original album artwork from the 1968 LP, as it has
never
been released on CD before -- not even on the Australian import CD. I reiterated that to him again this week, as the CD artwork for this new compilation is still being designed. Ideally, I would like them to include
all
the original album artworks in this CD package. I'm watching this very closely and as soon as I know anything, I'll post it here.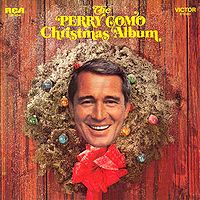 Lawrence F. "Chip" Arcuri Owner/Webmaster | The Yule Log.com