Re:Robert Shaw: Christmas Hymns and Carols, Volume 1
Date Posted:01/16/2020 08:47:52Copy HTML
If you're talking about my expanded CD release of the album that I got out with Real Gone Music in 2016, then it is only myself who would be able to answer your question.
When Robert Shaw re-recorded Christmas Hymns And Carols, Volume 1 in stereo in 1957, he recorded all of the tracks; however, for some crazy, bizarre and inexplicable reason that nobody has ever been able to figure out -- and even SME (Sony Music Entertainment) can't explain -- is that "Lo How A Rose E'er Blooming" and "I Sing Of A Maiden" were only included on the mono version of the stereo recording (catalog LM-2139), and not the stereo LP release (catalog LSC-2139).
The enlarged picture of the back cover of the stereo LSC-2139 release bears this out as you can clearly see: "Lo How A Rose E'er Blooming" which was the middle song in Band 4 (Side 1) is missing; and "I Sing Of A Maiden" which was the middle song in Band 3 (Side 2) is missing.

Any website that claims these two songs were ever included on the LSC-2139 release is dead wrong. And that's why I added them as bonus tracks on the 2016 CD.
And for anyone confused as to why there were two releases of the same album, it was a common practice for the record companies to offer a mono version of new stereo released LPs for the folks who didn't yet have the new stereophonic equipment. The mono LPs were generally a dollar less than their superior stereo counterparts.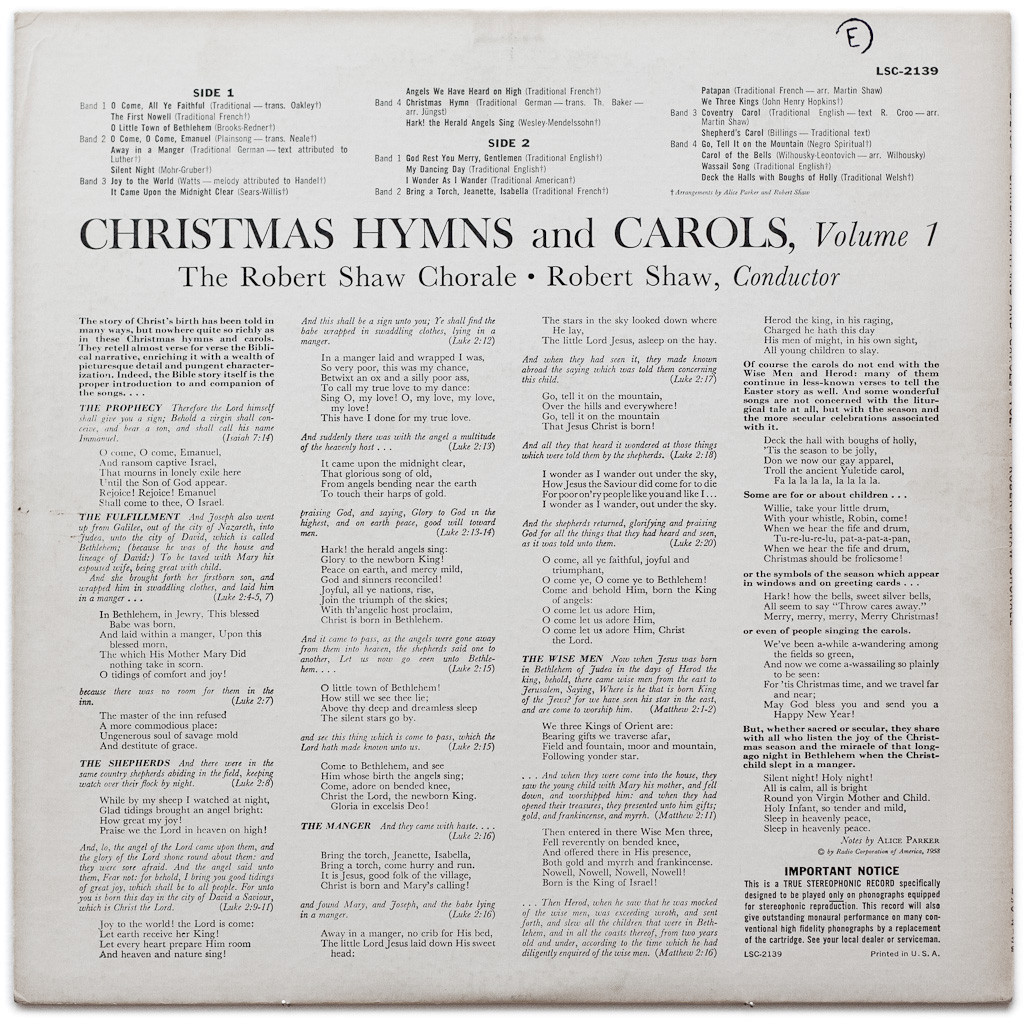 Lawrence F. "Chip" Arcuri Owner/Webmaster | The Yule Log.com