Thank you. And yes, it is a masterpiece indeed -- both Percy Faith's and mine; as it is the remastered reissue CD that I am the most proud to have ever gotten released. It is my pride and joy.
I was also thrilled to include the seven Christmas bonus tracks that I culled from non-Christmas LPs that Percy had released over the years -- all on one CD collection. I was also very proud that engineer Vic Anesini at Sony's Battery Mastering Studios here in New York did the remastering of the recording for us.

And so therefore, it is only fitting that on this Christmas Eve night, I am going to post here on the board for the very first time the liner notes that I wrote for this special CD reissue release. Enjoy!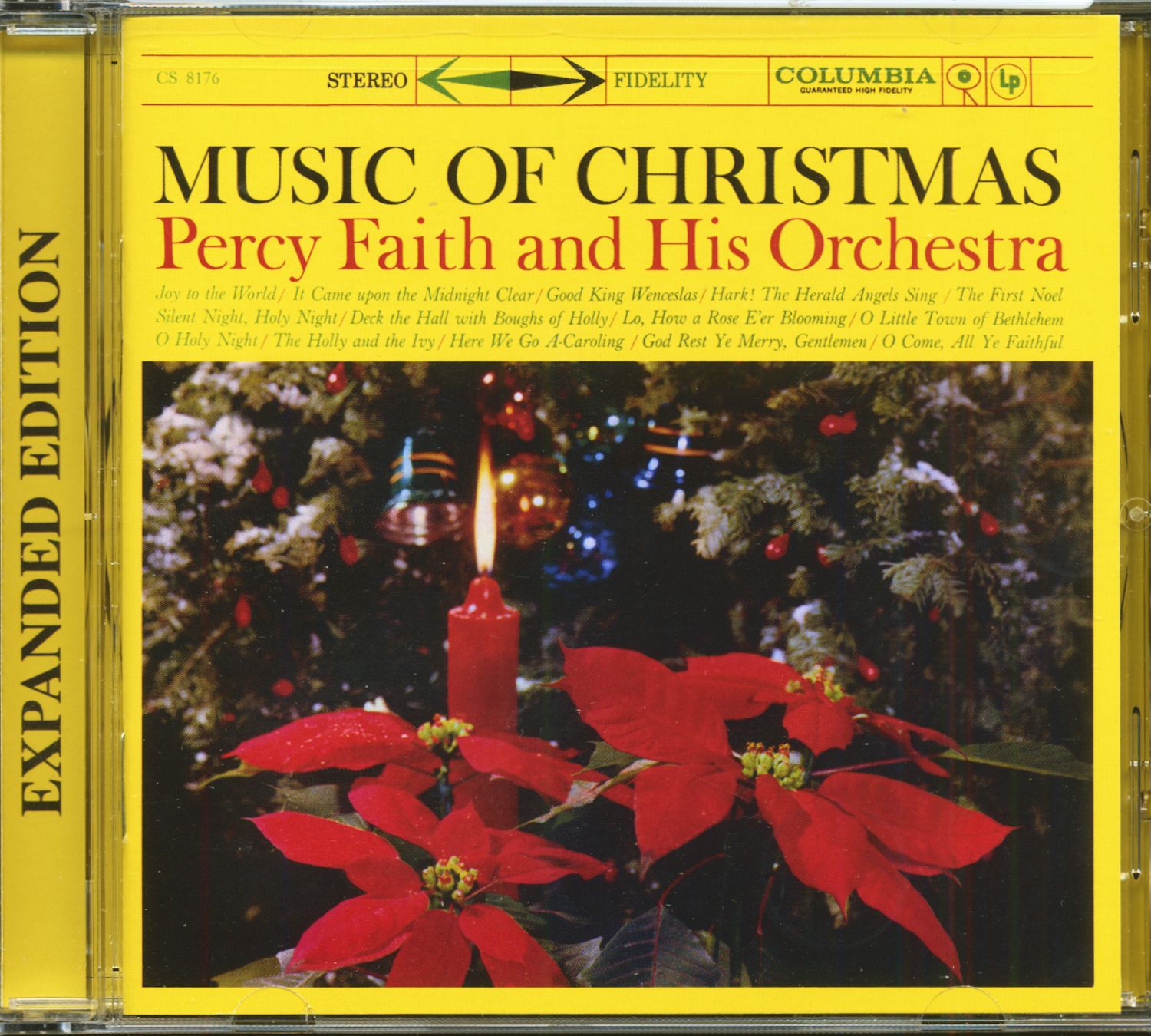 When Columbia Records first released the newly re-recorded stereo version of Music Of Christmas in 1959 with the updated "Poinsettia & Candle" cover artwork (which is now legendary in its own right), they dedicated a little space on the lower right-hand corner of the back cover to pay homage to the original 1954 mono recording. In this spot, Columbia poignantly displayed a little thumbnail picture of the original 1954 "Father playing Santa Claus while holding sleeping daughter" LP cover, and underneath the image they said the following:

"In its original edition with this well-known cover, this collection sold over 250,000 copies."
Even then, after only five years in print, this magnificent Christmas album had already achieved classic and legendary status. And in 1959, with the technologically superior stereophonic re-recording, as well as Mr. Faith's polished arrangements, the album exponentially increased its status, stature, and legend as the titan that it is in the annals of great Christmas music.
One of the many things that made Percy Faith so legendary as a Christmas music artist is that his Christmas music had an ethereal, celestial, and angelic quality to it. So much so, in fact (or fancy), that it sounds like it was literally piped down from heaven. There was an otherworldly quality to it that no other recording artist has ever come close to in duplicating–and I can categorically guarantee you that no one ever will. To be able to evoke such emotion with his music is what sets Percy Faith apart from anybody else and puts him in a class all by himself.
Another one of the many aspects of Mr. Faith's immense and incredible talent were his brilliant arrangements. In particular, his gift of being so deftly able to create beautiful counter-melodies that would complement the original (main) melody of a song. This is exactly why when it comes to Christmas music, he reigns supreme as the undisputed King.
Posted below is something that I have said many times in the past on my Yule Log.com message board, as well as in interviews that I have done with the media regarding the Yule Log telecast (that I'm affiliated with) and my Top 500 Christmas album collection:
In my all-time Top 500, and for that matter, my entire collection, which includes thousands of Christmas albums, there are only two albums that I do not have the audacity to rate on my scale of 1-10, as they are beyond my ability to apply such an arbitrary number due to the sheer perfection that was achieved in their majesty and reverence of arranging, conducting and performance. They are: Music of Christmas, originally released in 1954 in mono, then re-recorded and re-released in 1959 in stereo; and Hallelujah, originally released in 1958, then later reissued in 1965 as Music of Christmas Vol. 2. To rate these two albums, in my opinion, would be like putting a price on the Mona Lisa–which, of course, is priceless.
And if I may add to my above quoted words: the 1959 stereo re-recording of Music of Christmas is indeed the Holy Grail of all Christmas albums.
I just can't say any more than that.
With regard to the aforementioned WPIX Yule Log telecast with which I am so closely associated, Percy Faith, with a total of 16 songs on the program, is also the undisputed King of the Yule Log. In addition, he is the only recording artist who has songs represented from three different Christmas albums. I am proud to be responsible for six of the 16 Percy Faith selections on the current 5-hour broadcast. I added four of them via the new Fourth Hour of the program that I produced in 2009; and I added the other two via my new 50th Anniversary Fifth Hour that I produced in 2016.
In a career that lasted for well over 40 years, Percy Faith released over 80 albums and was a two-time Grammy Award winner. The first of those awards was for Record of the Year, for his 1960 international smash megahit single "The Theme from 'A Summer Place.'" The song became the top-selling single for all of 1960 and stayed at #1 on the Billboard charts for an impressive nine weeks–the longest run of any instrumental song in the history of the Billboard charts. In addition, this magnificent song is ranked at #18 on Billboard's Top 100 songs during the first 50 years of the Hot 100 chart. And for the record, Mr. Faith's second Grammy Award was for his 1969 Columbia Records LP, Love Theme from Romeo and Juliet.
By the way, in addition to "The Theme From 'A Summer Place,'" Percy Faith scored two other impressive #1 smash hits on the Billboard charts: "Delicado" in 1952 and, most importantly, "The Song From Moulin Rouge" (with vocals by Felicia Sanders), which actually held the #1 position for an incredible 10 weeks. It is yet another lasting legacy of the greatness of the Maestro.
Percy Faith also had an uncanny talent of making other artists better. The best example of this was his celebrated collaboration with the great Johnny Mathis. It was actually Columbia Records A&R Chief Mitch Miller who first brought the two together. After Johnny's first album for Columbia Records didn't fare so well, Mitch brought him to Percy, who was Columbia's Music Director at the time, in the hopes that he could do something with him in the Pop Department.
As for what happened next, I think Mr. Faith said it best in a 1972 interview he did with Wink Martindale. Here's what he had to say about his professional relationship with Johnny Mathis:

"We clicked right away; we did some fine things together. He's a great boy. He was then, and he still is. We worked beautifully together, we had no rehearsals. Between he, Mitch, and I we'd pick the tunes for his albums. I told Johnny to call me at home and give me his keys. We would never get together until we got to the actual recording session. I think this is what made it; it was all spontaneous."
And the rest, as they say, is history.
By the way, with regard to Mr. Faith and his mentoring of Johnny, the fruits of this collaboration led to one of the most classic and legendary Christmas albums of all-time: 1958's Merry Christmas, which featured Johnny on vocals along with Mr. Faith's magnificent arrangements and orchestral backing. This 1958 Johnny Mathis/Percy Faith Christmas album ranks #4 in my Top 500 of the greatest Christmas albums of all-time.
Among the many other artists that Percy Faith worked with during his tenure at Columbia Records were Tony Bennett, Jerry Vale, Johnny Ray, Doris Day, and Rosemary Clooney. He was universally liked and admired by those he worked with in the industry. In fact, when Mr. Faith passed away in 1976, Doris Day said in an ABC radio interview the morning after his death that "as beautiful as his arrangements were, that's how kind he was."
By the way, in this spectacular 2017 special CD release by Real Gone Music, there are seven great bonus tracks that came from non-Christmas Percy Faith albums over the years. They are as follows:
"Toyland" (from The Columbia Album of Victor Herbert LP, 1958)
"March of the Toys" (from The Columbia Album of Victor Herbert LP, 1958)
"My Favorite Things" (from The Sound of Music LP, 1960)
"Be a Santa" (from Subways Are for Sleeping LP, 1961)
"Brazilian Sleigh Bells" (stereo version from Carefree LP, 1961)
"Judy (aka Christmas Is)" (instrumental version from More Themes for Young Lovers, 1964)
"Soleado (aka When a Child Is Born)" (from Summer Place '76, 1976)
Another thing that makes this Real Gone Music release so special and so very essential is that since its initial release on CD by Columbia Records in the early 1980s, this legendary album has tragically never had a proper digital remastering. With this release, that terrible injustice has now been corrected, as the recording has now finally been digitally and absolutely beautifully remastered by Sony Music's renowned Battery Mastering Studios in New York City–and all under the magical wand of restoration engineer Vic Anesini, thus ensuring a truly spectacular digital restoration.
On a personal note, I am so very thankful for the Real Gone Music record label and their stellar commitment and dedication to releasing this great classic Christmas music on CD, thereby making their company the premier Christmas music reissue label in the United States.
And now I invite you to sit back and bask in the power, majesty and reverence of the spectacular Christmas music of the great Master and Maestro Percy Faith, in all its resplendent glory.
Lawrence F. "Chip" Arcuri
Owner/Webmaster | The Yule Log.com


Lawrence F. "Chip" Arcuri Owner/Webmaster | The Yule Log.com