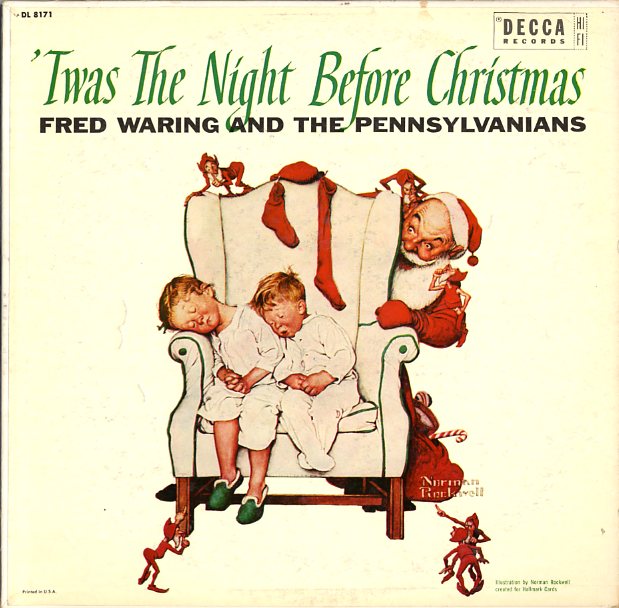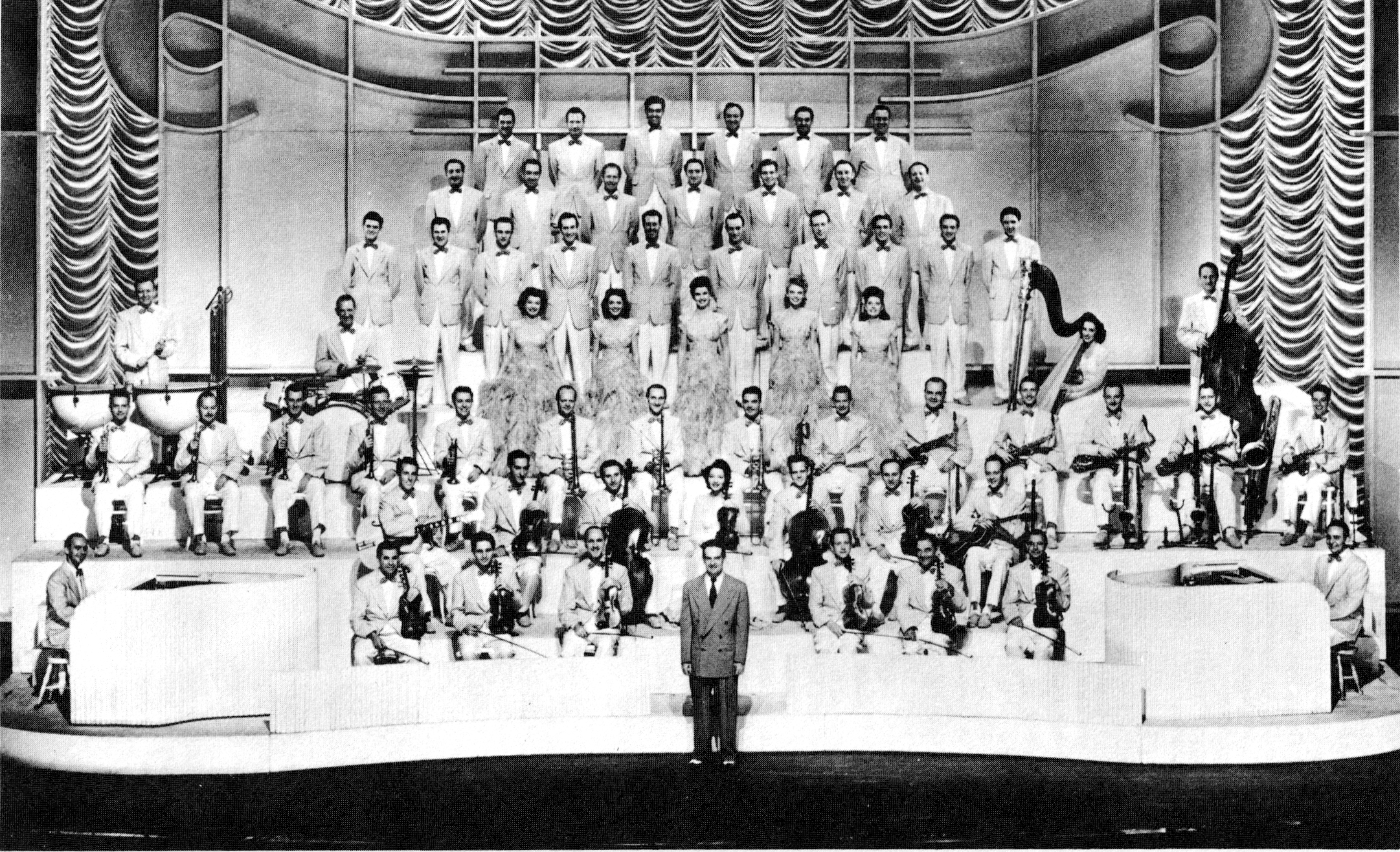 Fred Waring and the Pennsylvanians in all their grandeur and elegance at the Roxy Theater in New York City during their golden years; they were truly the personification of class, style and sophistication.
One of the all-time great titans of Christmas music was the legendary Fred Waring and the Pennsylvanians.
Known as "The Man Who Taught America How To Sing" and "America's Singing Master," Fred Waring was a pioneer who single-handedly popularized the concept of choral music in America throughout a career that spanned more than 60 years. His accomplishments included radio, television, motion pictures, music education and, of course, a prodigious catalog of recorded music. He was the first to feature vocalists with an orchestra, the first to combine an orchestra with a glee club, and the first to present a weekly musical show for television (The Fred Waring Show, 1949-1955). In addition, The Pennsylvanians over the years also boasted some great alumni, including future music legends Robert Shaw and Harry Simeone, to whom Mr. Waring was a dear and cherished mentor. He was truly an American treasure, and it is not an understatement in any way whatsoever to say that all choral groups that came after owe an indebted thanks to the great Fred Waring and the Pennsylvanians.
In this In the Spotlight tribute, I am now able to feature here via my new YouTube channel two classic songs from Mr. Waring's legendary Christmas LP, 'Twas The Night Before Christmas. By the way, this album, along with its sister album, Christmas Time, hold two coveted and well-deserved positions in the Ultra Top 10 of my Top 500 , coming in at #5 and #6 respectively.
Up first is his classic version of the contemporary Christmas standard, "Jingle Bells." If you've never heard it before, then I implore you to sit back and relax, because you are in for a real treat. The song was done in Fred Waring's classic and inimitable "round robin" style, meaning everyone, and I mean everyone, in the group played a part: the Orchestra, the Glee Club and several of the group's outstanding Soloists. Not to mention, by the way, the seven (that's right, seven!) arrangers who contributed to this great song, including the great Roy Ringwald and the equally great Harry Simeone. I've known this song and this album now for over 40 years from my earliest years growing up, and I have only come to love it more and more every year. It's always the album that traditionally kicks off my Christmas music playing season, and from the opening notes of this lead-off song, you'll know why. You'll hear the Pennsylvanians really kicking it up in a merry, jolly and festive way that not only sets the tone for the song, but the entire album.
Recorded in 1950, "Jingle Bells" was originally released on the 10" LP version of Christmas Time. Then, in 1955, Decca Records added it to the expanded 12" LP version of 'Twas The Night Before Christmas, and that's when the album was released with that famous, enchanting and legendary cover by the great American artist, Norman Rockwell. And just for the record, Mr. Rockwell's title for his wonderful drawing which adorns the album's front cover was "Caught Napping."
Folks, Christmas music just doesn't get better than this. So, here now, without further ado, for your listening enjoyment and pleasure, is Fred Waring and the Pennsylvanians' great classic version of "Jingle Bells."

Click Here ~ "Jingle Bells"
For my second selection in this In The Spotlight tribute to the great Fred Waring, I present to you a song which is legendary in its own right: It's the Pennsylvanian's classic recording of another contemporary Christmas standard, "Rudolph The Red-Nosed Reindeer." I've had many inquiries about this song over the years from folks trying to find it; but sadly, like all of Mr. Waring's Decca Christmas recordings, it is tragically out-of-print.
With this next selection of the Pennsylvanians' classic rendition of "Rudolph The Red-Nosed Reindeer," if anybody ever needed proof that Mr. Waring's sense of humor was equal to his great sense of music, then this song is bonafide proof. It was arranged by the great Livingston Gearhart and features that dynamic threesome, The Teen Trio, as well as several of the group's wonderful soloists who do the "funny parts" -- including longtime Pennsylvanian (and I mean longtime -- he dates back to the early 1920s!) Poley McClintock, who hysterically does the voice of Santa Claus. If you've never heard this one before, then get ready yet again for another great and legendary Fred Waring Christmas classic -- and one certainly for the ages:



Click Here ~ "Rudolph The Red-Nosed Reindeer"

Lawrence F. "Chip" Arcuri Owner/Webmaster | The Yule Log.com